A ONE-ELEMENT WING-SAIL

LIGHT – FURLABLE – UNIVERSAL
Video : " Le Telegramme "

The Add-Modules System is light, furlable a-shore and reefable offshore.
The system is supported by the fabric sail and so, suitable on existing rigging for various platforms.

The system is based on current technologies used by sailmakers.

Features :
On each side of the fabric sail are applied foam panels or membranes. One or several inflatable inserts move away the panel of the sail. A relative translatory movement is allowed to the panel accordingly they are leeward or windward surfaces.
It confers :
A one-element semi-rigid wing


An asymmetrical profile

A side to side transfer

An upgradeable thickness
Technical data :
The panels are linked to the sail by assembly parts.
List of parts :
A fabric sail designed to support the system.

Zip


Assembly parts : specifically developed for the system, they are removable and UV resistant.
The insert gives the thickness to the profile. An average thickness is defined in agreement with the sail designer and then, according to the wind or sea conditions, one can choose to inflate or deflate the insert in a chosen area. The thickness is not limited by the mast section.




April 2019 : Voiles et Voiliers Vidéo
Compatibility / Simplicity :
The equipment is supported by the fabric sail so the system is suitable on existing rigging for various platforms.  The front sails and others sails do not required any modifications.
the flexible sail does not flap and therefore endures less efforts,

less reinforcements are needed,

the rotating batten cambers are unnecessary,

fewer battens are required : only the leech of the sail needs to be held, as the shape along the mast is ensured by the Add-Modules thick elements.
Reefable : the reduction of sail when the wind increases is performed as a classical reefing.

Easy to store : the wing is furled as a fabric sail on the boom.
Easy to transport : the elements are removeable.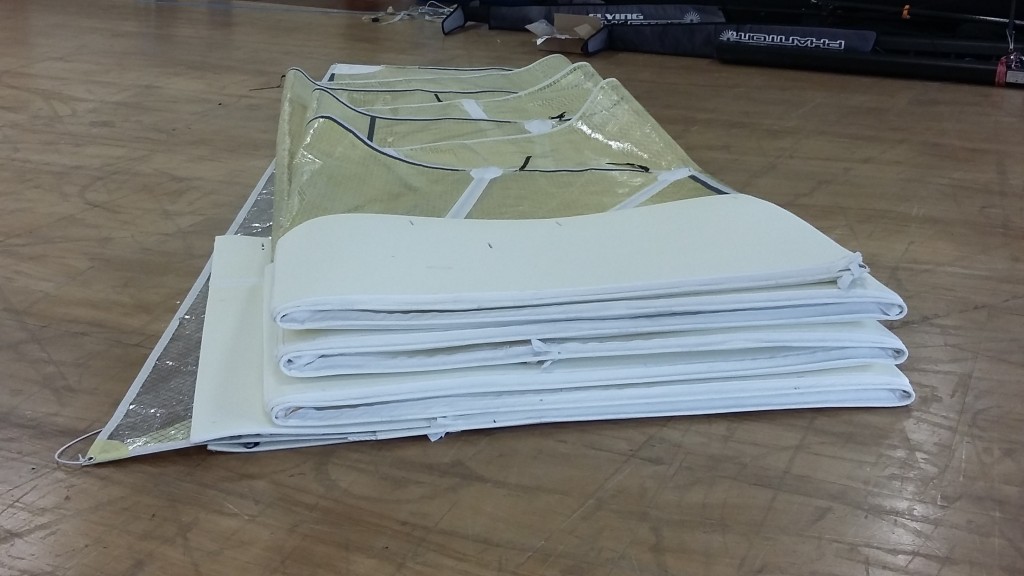 Digital Wind Tunnel
To illustrate the feelings resulting from the practice, digital wind tunnel studies are made. Two fabric sails equiped with six Add-Modules designs are analysed.

The performance are compared to fabric sails.You obtain results for the sails (drag and lift) but also for the boat (propulsion, heeling). This study will also help to design the shape of the fabric sail. .
The drag and the lift have been measured for several incidence in given AWA.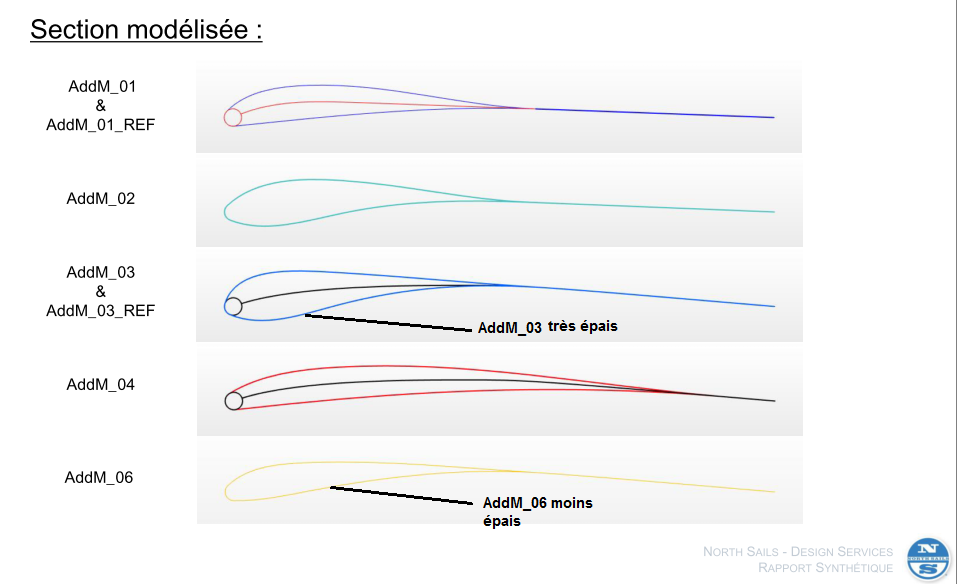 The results are available on demand.
Point Cloud

A windsurf sail was scanned by Nautiscan3d based in la Rochelle. This study allows to measure precisely the volume applied on the sail. Here, 0.20 m3. This also allows to check the homogeneity of the section.